Zwillinger Wulkan attorneys understand that injuries sustained in bus accidents are often more severe than those caused by other vehicular accidents.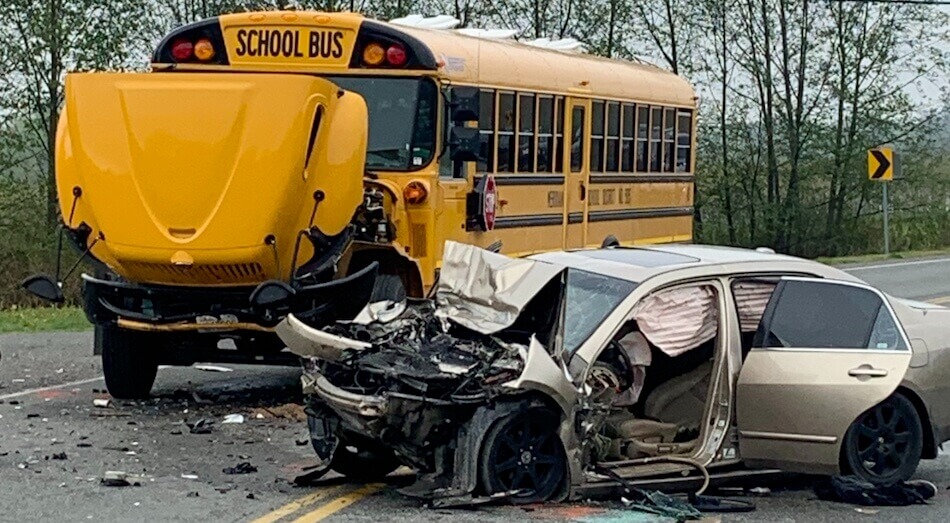 A lack of on-board safety measures such as seatbelts can put riders at risk for serious injuries. In some cases, passengers who are injured aboard a bus may be entitled to financial compensation for losses resulting from an accident. Unfortunately, the process for recovering compensation after a bus crash can be difficult.
In many cases, buses are owned and operated by the government. Claims against municipalities are often subject to stricter guidelines, including shorter time limits for taking legal action, and can present complications for attorneys who are not familiar with the intricacies of the claims process.
Our attorneys have handled bus accident cases against both private third parties and the government, and have a track record of success in recovering full compensation for our clients.
If you have been injured in a bus accident, either as a passenger on board or as a third party, you may be entitled to compensation for damages — contact Zwillinger Wulkan to discuss your case.
Frequently Asked Questions
Filing a bus accident lawsuit can be a complex process, as there are a number of entities who may be liable for the crash. If a third party driver struck the bus or caused the accident, your attorney may be able to help you recover compensation through a personal injury lawsuit against the negligent driver or their insurance company; however, if the bus driver caused the crash, the process may not be as straightforward.
If the bus is owned and operated by the government, your attorney will first attempt to negotiate a settlement with the government's insurance company. If your claim is denied, you may be required to file a claim against the government itself. It is imperative to retain an attorney who has experience in these types of lawsuits to help ensure you receive full compensation for your losses.
There are strict rules and deadlines that must be followed to collect compensation, and without the assistance of an attorney, you may lose your chance to recover damages.
Zwillinger Wulkan attorneys have experience handling third party personal injury cases, negotiating with or litigating against insurance companies and filing claims against the government. Additionally, we have access to experts, including medical experts, accident reconstructionists, and automotive safety experts at the top of their respective fields.
In establishing a claim, our attorneys may:
Obtain and review all accident and police reports
Obtain and review all video from bus and intersection cameras
Obtain and review all video from driver and police body cameras
Interview witnesses and other passengers
Photograph the scene of the accident as well as injuries you sustained
Analyze medical reports
Re-create accident scenes and scenarios with experts
Handle correspondence from the opposing party and their respective insurance companies
Buses are often thought to be a safe mode of transportation. As common carriers, bus drivers owe a heightened duty of care to their passengers.
Additionally, buses owe a duty of care to other vehicles on the road. When a bus driver breaches this duty and an accident occurs, they may be liable for any resulting damages.
Some causes of bus accidents that may indicate negligence on part of the driver or their employer may include:
Fatigued Bus Drivers
Drivers Operating Under the Influence of Drugs or Alcohol
Distracted Drivers
Inadequately Trained Bus Drivers
Failure to Follow Traffic Regulations
Overloaded Buses
Poor Bus Maintenance
In showing that a bus driver or third party was negligent, the injured must prove the driver had a duty of care to their passengers or other vehicles on the road, an action or failure to act resulted in a breach of this duty, an injury was suffered, and the breach was the cause of the injury.
School buses carrying children are common carriers that owe a heightened duty of care to protecting their passengers. Children have a special status in the eyes of the law, and courts have recognized their need for extra protection.
School bus drivers must drive and operate their vehicles with extreme caution and strictly follow rules and regulations enacted for the protection of the children. Liability typically applies while children are on board the bus but can extend under certain circumstances where the driver still has a duty to ensure the safety of the children.
School entities, school bus owners, and school bus drivers may be held liable for injuries a student sustains if the driver fails to:
operate the bus with due care
activate safety measures, including flashing red lights and stop sign, while students board and leave the bus
verify traffic has stopped before permitting a child to exit the bus
monitor a child's safe crossing of a street
Liability varies depending on the specific statutory duties in place for school buses and drivers in the district in which the accident occurred.