There has been an abundance of passenger train accidents across the country in recent years, causing the millions of people who rely on Amtrak, commuter rail, subways, and other passenger trains for their daily commute to worry about the state of railroad safety in America.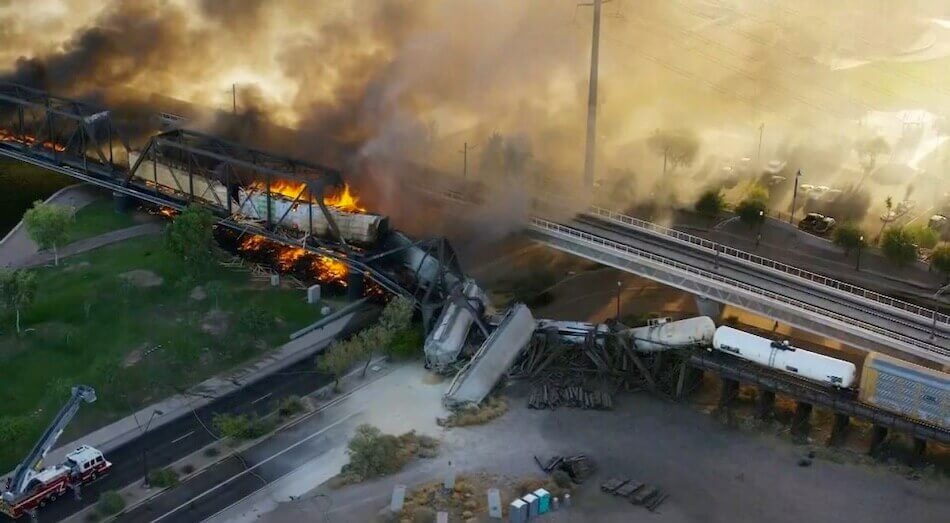 Too often, these train accidents are caused by acts of sheer negligence on the part of a rail company, such as deteriorating track conditions that go unrepaired, equipment left on the rails, dangerous speeding through hazardous curves, or engineers who are distracted or fatigued while operating the train.
These acts of negligence often have devastating consequences for the passengers and crew riding the train in the form of broken bones and fractures, back and neck injuries, traumatic brain injuries, spinal cord injuries, burns, and other life-threatening injuries.
Even innocent bystanders and those living in homes near train tracks can be hurt or killed by a train careening off the track. In fact, nearly 1,000 people are killed in train accidents each year, and thousands of passengers suffer serious injuries annually, according to the Federal Railroad Administration.
If you or someone you love was recently injured or killed in a train accident, our attorneys may be able to help you recover compensation for your injuries, pain and suffering, as well as other damages resulting from a crash or derailment.
Contact Zwillinger Wulkan to discuss your case.
Frequently Asked Questions
Victims of train accidents often suffer traumatizing, life-altering injuries that require costly medical attention and treatment, as well as time away from work recovering. A train accident attorney can help you recover compensation for medical bills, lost wages, and other damages by determining liability after the accident.
While many train accidents are caused by a railroad company's negligence, proving fault after an accident is much easier said than done. The federal and state laws surrounding railroad safety are complex and there multiple federal agencies that regulate railroad safety and investigate railroad accidents.
An experienced attorney knows the ins and outs of these laws, and can conduct an investigation on your behalf to determine if a railroad company and its employees violated any laws or operated its trains in an unsafe manner that caused the train crash or derailment.
Train accident victims who participate in a lawsuit can pursue monetary compensation for their injuries in the form of economic, non-economic, and sometimes punitive damages.
Economic damages compensate the injured victim and their family for their monetary losses, such as:
Current Medical Expenses: This can include fees for emergency room visits, hospital care, surgery, assistive devices and appointments with approved medical professionals after a train crash.
Future Medical Expenses: In some cases, the injuries sustained in train crash or derailment are so severe that they will require extended medical attention and care.
Lost Wages: Some train accident injuries may be so extensive that they prevent the victim from returning to work temporarily or even permanently. The law permits recovery of compensation for the wages lost between the time of injury and the conclusion of the lawsuit.
Loss of Earning Capacity: If the victim can demonstrate that their ability to earn a living has been negatively impacted by the train crash, compensation may be available. Past wages are considered in determining the amount of this award, as well as the amount of income the victim could have earned had the train accident not occurred.
Non-economic damages compensate the victim and their family for non-financial, intangible losses, such as:
Pain & Suffering: This may include compensation for the physical pain suffered as a result of injuries sustained in the train crash. The nature of the injury, the extent of the pain, and the length of time the victim is expected to suffer are all included in the calculation of the award.
Mental Anguish: Train accident victims can also be awarded for emotional pain suffered as a result of the crash or derailment. Mental anguish damages compensate the victim for fright, anxiety, worry, grief and other forms of emotional distress caused by the train accident.
Loss of Consortium: A surviving spouse may be awarded compensation for the loss of services, assistance, aid, and companionship of his or her loved one in the case of a wrongful death caused by a train accident. Surviving parents may be awarded compensation for the loss of love, affection and companionship of their minor children as a result of their wrongful death. Minor children may be awarded compensation for the loss of assistance, aid, and companionship of their parents as a result of their wrongful death.
In addition to the compensatory damages discussed above, punitive damages may be awarded if the defendant's actions causing the accident were willful, malicious, or intentional, in order to punish the offender and dissuade similar conduct in the future.
Our attorneys handle a variety of train accident cases involving acts of negligence by rail companies, including:
Derailments
Excessive speeding
Failure to maintain or repair tracks
Train operator error or fatigue
Faulty signaling equipment
Mechanical failure
Failure to break
Debris or equipment left in tracks
In some cases, a manufacturer may be found liable if the train accident was caused by some manufacturing defect with the train or rails, rather than negligence on the part of the company who owns the trains or railways.
Our train accident attorneys can help investigate the cause of the crash or derailment and determine the liable party.